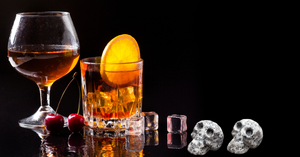 Set of 4
Grey Whiskey Stone Skulls
The stones will chill in a matter of hours. Be sure to leave Whiskey Bone skulls in the freezer until it's time to pour a drink.
Once added to your drink, the stones will warm slowly, bringing down the temperature of your beverage just the right amount.
Unlike ice, the granite skulls will not dilute your drink in any way. These novel formed stones are the perfect size for a 2 oz drink. Two skulls are recommended per serving. 
★★★★★

Perhaps one of the best online store experiences ever had. Very decent website, amazing products and quality.

Linda B.
★★★★★

You can get best Product for affordable price. Love their services and I have the best shopping experience.

Tarish R.
★★★★★

They never fail to deliver. I'm glad i found this store, I order everytime from here and they deliver very fast.

Mickey L.
Quality.
Only the finest granite stones are chosen.
Unique.
Each stone is hand-carved making every set novel from the next.
Useful.
Preserve your bold beverages using novel carving